I always try to write a great feature for this show, as it fights a truly great cause for some truly great people. This is a three day festival out in East Kentucky to raise funds to help combat the opioid problem in their region. For the amount of a ticket, Tyler Childers alone can be worth the ticket price, but when you combine the rest of the acts involved this is a banger of a lineup not to be missed!
If you or someone you loved is not sure if they are an addict or is suffering from addiction PLEASE don't hesitate to reach out to someone like these folks, and they will drop what they are doing to listen and help…..please get yourself help you ARE WORTH IT!
I don't usually go into too many details on here about my own personal problems, but this event means a lot to me, because I am an addict myself. I spent seven years of my young adult life on heroin, and I recovered myself, and here just recently I had to go back to recovery for a pain pill addiction. I have Rheumatoid Arthritis, and for years the pills helped, until they took hold of me. Before I knew it, I was taking up to 20 a day!
I put in my six weeks of recovery at Bradford in Warrior Alabama, and I used music to heal and cope with detox and my transition into society sober, which was difficult until I got my mental meds figured out. What this incredible team of people do, is educate, intervene, listen and heal. Folks, these people won't stop until their entire area is clean of this shit.
Here is their initial vision:
To produce events that help connect and grow communities of recovery and healing in Appalachia, raising funds and awareness to combat opioid addiction through a wide array of projects and programs from youth prevention, healthy lifestyles and wellness to recovery houses and recovery to work. Like Farm Aid does to raise awareness and funds for America's small, sustainable family farms, we want to bring together folks to raise funds and awareness to celebrate recovery through our main event Healing Appalachia each September, and work year-round on more projects fostering communities of recovery.
The roots of our organization started on Aug. 15, 2016. The small city of Huntington, West Virginia gained international headlines when 26 people overdosed in one day. This fateful day hammered home the fact that drug overdose is the leading cause of death for people under 50 in the United States. We knew we could not sit on the sidelines while friends and family members succumbed to the evils of opioid addiction. We decided we could impact the world best by starting at home. We gathered kindred spirits and used our musical gifts and love of community to create a non-profit Hope in the Hills, LLC, to produce a yearly concert of connection called: Healing Appalachia.
There is no magic cure for this disease. The causes for this epidemic are complex and not easy to fix as the hardest hit regions such as Appalachia are steeped in poverty. Continued, multiple legal settlements from drug companies to states and local governments verify that pharmaceutical opioid marketing and suspect prescribing practices set the stage for the opioid addiction crisis.
Topic experts like Sam Quinones, author of Dreamland, point to the decline of community by decreased funding of public services. Addiction thrives in isolation, which has exacerbated the crisis during Covid quarantines. In 2021, a record number of 101,000 Americans died of overdoses. Appalachia continues to see more than its weight of the burden with an increasing number of deaths, impact and sorrow. And West Virginia – the only state fully in the Appalachian region – still has the highest rate of fatal overdose in the nation.
As daunting as the crisis has become, hope remains. Robust recovery communities have formed across the United States and Appalachia. Many folks who have been given a second chance on life – revived with Naloxone are – once they travel that hard path to recovery – are helping others find the way.
Groups are helping at-risk youth and grandfamilies. They are breaking down the stigma of harm reduction. They are providing safe treatment spaces for those in active addiction. They are creating wrap-around services and trainings for recovery to work. They are providing wellness and mental health counseling to first-responders. Through these efforts, communities of recovery across Appalachia are being born, creating a connective tissue of sustainable recovery through personal, innovative and systematic best practices dealing with the catastrophic, multi-generational impact of addiction.Let's all band together to #FosterHope in 2022 and be an active part of #HealingAppalachia.
Economic Impact of Healing Appalachia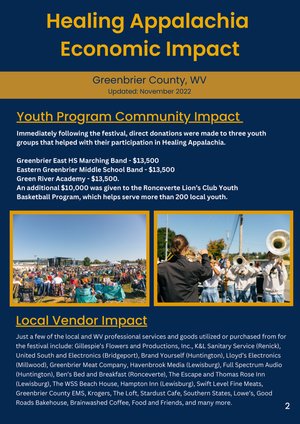 Recovery Resources
Our Partners
Let's talk about the music on here!
Ritch Henderson I plan to go see play live Saturday in Nashville. He recently released his debut album "Fallacies And Four Letter Words". This man has been working tirelessly and relentlessly to get his music out into the world. So keep an eye out for more news on him next week.
Another one of the bands on this event is the mighty 49 Winchester, which was recently featured on my Opry article and another article featuring weekend shows. Many of the other artists on this bill will also be featured in other articles.
One of the acts I would like to see live is Emily Nenni her 2022 album "On The Ranch" really impressed me as a fan of good ol fashioned Honky Tonk Country. "Can Chaser" is an upbeat rodeo song complete with all the bells and whistles of a twang lover's paradise. Another great song from that album was "The Rooster And The Hen", kind of a real life story about people told by barnyard critters!
Healing Appalachia 2023 Tickets Are On Sale Now, and all of the VIP tickets are gone already.
WHERE? – The State Fairgrounds of West Virginia is located 947 Maplewood Ave, Lewisburg, WV 24901
Parking located on site, follow parking attendants to park. Accessible parking is available for those who need it
WHEN? – Gates open at 2 p.m. Friday, Sept. 23 and at 11 a.m. Saturday, Sept. 24.
A detailed schedule with set times *subject to change will be posted closer to the festival date.
FAIRGROUND RULES FOR WHAT'S NOT ALLOWED INSIDE THE CONCERT AREA:
No pets or dogs except legitimate service animals
No coolers
No outside food or drink
No drugs
No umbrellas, pop-ups, or other tents
No wagons or other carts
WHAT'S ALLOWED IN CONCERT AREA
Bring sunscreen, bandana, hat, glasses
Children 12 and under are admitted free
Strollers and wheelchairs are permitted if needed
Chairs and blankets are welcome, except for right in front of the stage
Re-entry is allowed with visible hand stamp
Bags are subject to search
ARE THERE VENDORS ON SITE?
There will be more than a dozen local, and regional food and beverage vendors on premise with a wide range of both healthy food options as well as all of the fair food groups from lemonade and fresh-made doughnuts, to burgers, hot dogs, pizza, coffee, sno-cones and WV's official grab-and-go snack food – pepperoni rolls. There will also be more than a dozen regional arts and crafts vendors.
WILL THERE BE ALCOHOL?
Yes, there will be a small number of local breweries including Big Draft Brewing and Weathered Ground.
Note that since Healing Appalachia celebrates recovery (from opioid addiction) we ask folks to "read the room," to be respectful, and if they choose to partake to drink responsibly, and to not drink and drive.
WHAT SUD SERVICES WILL BE AVAILABLE?
There will be about 30 agencies from around Appalachia who specialize in various aspects of SUD (Substance Use Disorder). Folks from some of those groups will be presenting a wide range of services throughout the weekend including NA meetings, music therapy, Naloxone training, art therapy, and other wellness activities.
WILL THERE BE MERCH?
Yes, Healing Appalachia will have a booth for official merch from exclusive, numbered posters to T-shirts, caps, pins, stickers and more designed by a couple nationally-known artists.
WHERE TO STAY ON SITE?
On-site camping and RV sites with hookups are available. Please contact the State Fair of West Virginia at 304-645-1090 for RV camping.

WHERE TO STAY OFF-SITE?
Here's a link to area hotels, motels, Air BnBs, campgrounds and other accommodations put together by the Greenbrier Valley Visitors Guide
AVERAGE TEMPS AND WEATHER:
The daily highs and lows for late September in Lewisburg are 69F high and lows average 48 but can dip lower so come prepared for "fall camping."
Here's a closer look at typical September climate data for Lewisburg

WHAT DOES THE MONEY RAISED HELP FUND?
Hope in the Hills utilizes funds raised at Healing Appalachia to help support recovery efforts around central Appalachia. The organization has given more than $100,000 to a wide variety of boots-on-the-ground non profits working throughout the recovery ecosystem from youth and prevention to recovery houses and recovery to work initiatives. Some of the recent recipients have included: Recovery Point West Virginia, West Virginia Reentry Councils, Fayette County Family Resource Network (Fayette Prevention Coalition), Mercer County Fellowship Home, WestCare Kentucky (Camp Mariposa), Hope Recovery Manor, as well as teaming up with a wide range of allies such as West Virginia Drug Prevention Institute, West Virginia Collegiate Recovery Network, Addiction Recovery Centers, Healing Housing and many others.
In 2023, Hope in the Hills is relaunching its music therapy program tapping into the super powers of music therapists from around the region to help spread the joy and proven scientific power of music to aid in helping folks process emotions and help them in their path to recovery and wellness.
ABOUT THE AREA:
Established in 1792, Lewisburg has a 236-acre National Register Historic District containing 18th & 19th century buildings of historic and architectural significance. Voted Budget Travel's Coolest Small Town 2011, Lewisburg is rich in the arts and home to a Carnegie Hall and the Greenbrier Valley Theatre.
Greenbrier County's White Sulphur Springs is home to the world-renowned, Greenbrier Resort, whose underground bunker was featured in the Fallout 76 video game. The town is also the home of Oakhurst Links, the first organized golf club in the United States.
Numerous outdoor opportunities await you, including hiking and biking along the Greenbrier River Trail and in Greenbrier State Forest and fishing, camping and canoeing on the Greenbrier River. Tour underground in nearby Lost World Caverns.
Go online at https://visitwv.com/our-area/greenbrier/ for more info about Greenbrier County and the area.