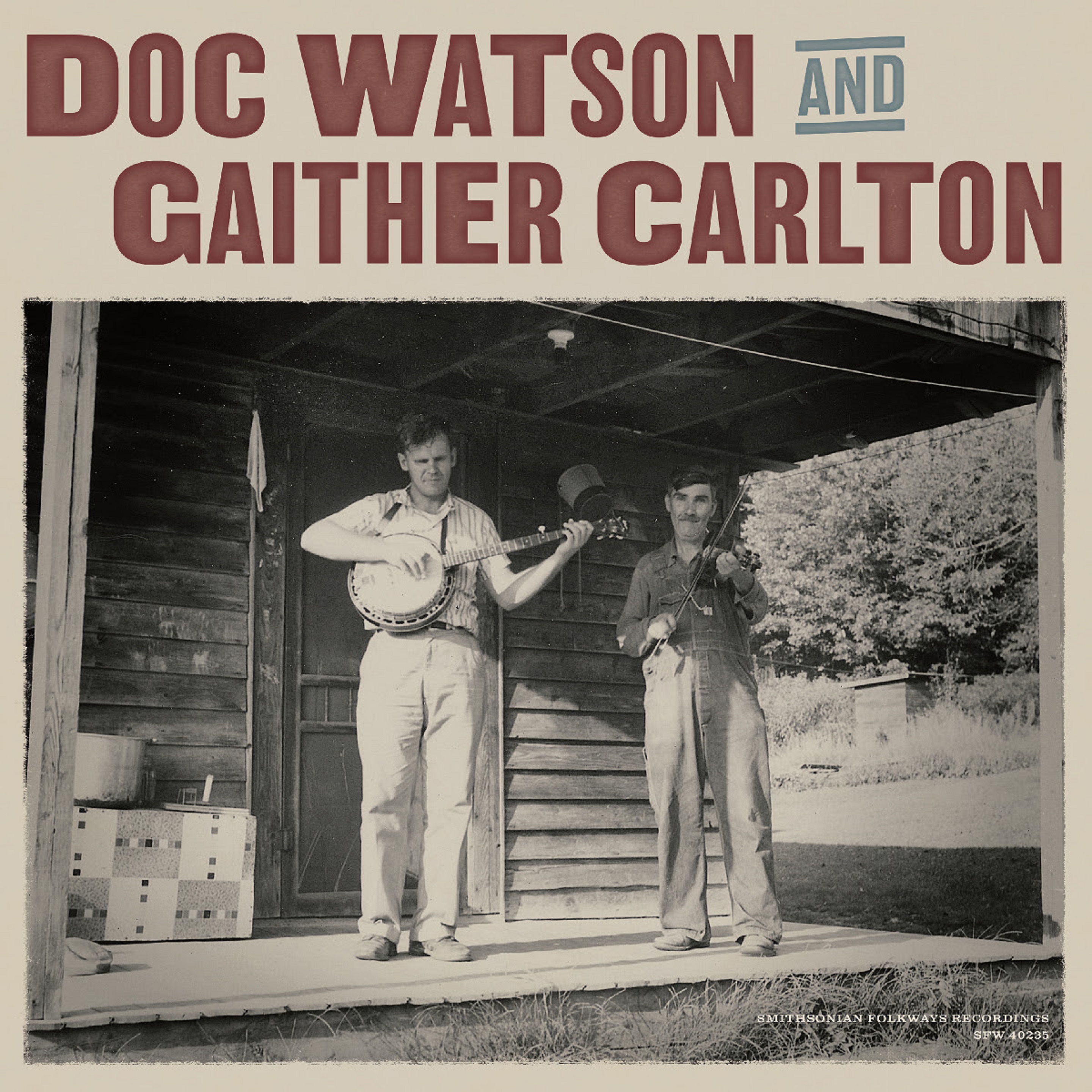 One of my personal favorite musicians of the "older era" flatpickers, and one of the sole influences of the mighty Merlefest festival in North Carolina was Mr. Arthel "Doc" Watson. He and his ilk ushered in some timeless music as well as legendary musical techniques that many my age ardently study.
I seek out the obscure and the overlooked Legends of every genre, and I have an appetencity to know WHO did WHAT and WHEN..and this album knocked it out of the park for me. Believe it or not the state of New York produced a plethora of iconic shows for Country and Folk Music in the past, and this album is on that list.
In the late spring of 1962 there was a passionate Folk Music enthusiast named Mr. Peter K. Seigel lugged some of his recording equipment to TWO New York venues to record the Legendary Doc Watson perform. For the sole purpose of personal enjoyment, he recorded Mr. Doc and his father in-law Mr. Gaither Carlton perform for the first time in New York as a headliner act.
I SAY LUGGED because…could you imagine the immense labor that required to record shows in the 1960's? Well, he did and enjoyed it for himself before deciding to allow the public to enjoy these recordings on CD and vinyl, after this many years.
In the late 1950's and early 60's famed folklorist Mr. Ralph Rinzler ran across Mr. Doc Watson on accident, as he was playing Rockabilly and Western Swing with an electric guitar. Mr. Ralph convinced Watson to perform solely with Acoustic guitar and banjo. Through the years, he culminated in the end as being known for his rick baritone vocals and his playing a Dana Bourgeois dreadnought given to him by Mr. Ricky Skaggs.
The music community of North Carolina boasts a rich history from him many others along with many venues and festivals. He played a major role in creating the mighty North Carolina Merlefest, which my website heavily covers. He and his son performed many times at that festival that began in 1988 in memory of his late son.
In 1947, Mr. Doc married Miss Rosa Lee Carlton, the daughter of Legendary fiddle player Mr. Gaither Carlton whom died in 1972. Gaither was also brought to fruition by producer Mr. Ralph Rinzler, and Mr. Doc Watson was invited by the duo to record at his home in Tennessee. Here is the press release:
DOC WATSON AND GAITHER CARLTON
May 29, 2020 on Smithsonian Folkways
It's hard to imagine a time when the brilliant guitar playing and Appalachian roots of Doc Watson weren't a part of the American musical fabric. A famed artist in his day and a continuing influence on American music, Watson happened into the music industry much by accident, "discovered" by noted folklorist Ralph Rinzler in the early 1960s when he was mainly playing rockabilly tunes on the electric guitar near his home in tiny Deep Gap, North Carolina. Rinzler convinced Watson that audiences around the country were interested in the older music of Appalachia, and the nation soon fell in love with his heartfelt, powerful singing and his inimitable acoustic guitar playing. He inspired countless people to pick up the guitar and learn to flatpick the old melodies, much of this encouragement coming in person after performances. It was at the first of these shows in New York, really Watson's first time headlining a show in the city (the previous time he'd played there he was one of two guitarists in Clarence Ashley's band), that we get to hear this old music played by Watson and his fiddling father-in-law, Gaither Carlton. These live recordings from 1962 are to be released May 29, 2020, by Smithsonian Folkways as Doc Watson and Gaither Carlton on CD, digital, and vinyl. Most of these tracks have never been released before, and the recordings capture two masters at the height of their power, reveling in an audience that was there to listen, not just to drink and dance. It's a moment where the rural Appalachian world of North Carolina came face to face with the urban New York world of young people desperate to learn folk music and to learn more about the Southern traditions they'd been discovering. These recordings show two very different worlds coming together, buoyed by Watson's charming personality and his willingness to teach all who would learn.
These album pictures are all courtesy of Mr. Ralph Rinzler, who was the curator at the Smithsonian for years. He was co-founder of the annual Smithsonian Folklife Festival, as well as an intense enthusiast and a savant of Folk Music as a whole.
Now, Id' like to talk about this album here.
This album I approached a little bit differently than others because I thought the production quality would have been poor or actually missing altogether. One of the songs that stuck out to me the most about an old man waiting for his to come home from the Civil War…in a casket. He knew his son was dead, and the man at the window thought he was an alive passenger. It's from an album called "Sittin' On top Of The World".
Most of them are wordless fiddle tunes performed in his signature Appalachian style, but songs like "Willie Moore". A young man requested permission form his gal's parents to marry her and they refused. Here, we have a tragic and poignant song of despair as the young man died.
Track Listing:
1. Double File
2 .Handsome Molly
3. He's Coming To us Dead
4. Corina
5. Brown's Dream
6. Groundhog ( Blind Lemon's Version)
7. My Home's Across The Blue Ridge Mountains
8. Bonaparte's Retreat
9. Willie Moore
10. The Blue Ridge Mountain Blues
11. Goin' Back To Jericho
12. Billy In the Low Ground
13. Reuben's Train
14. The Dream Of the Miner's Child
15. Groundhog ( FOTM Version)