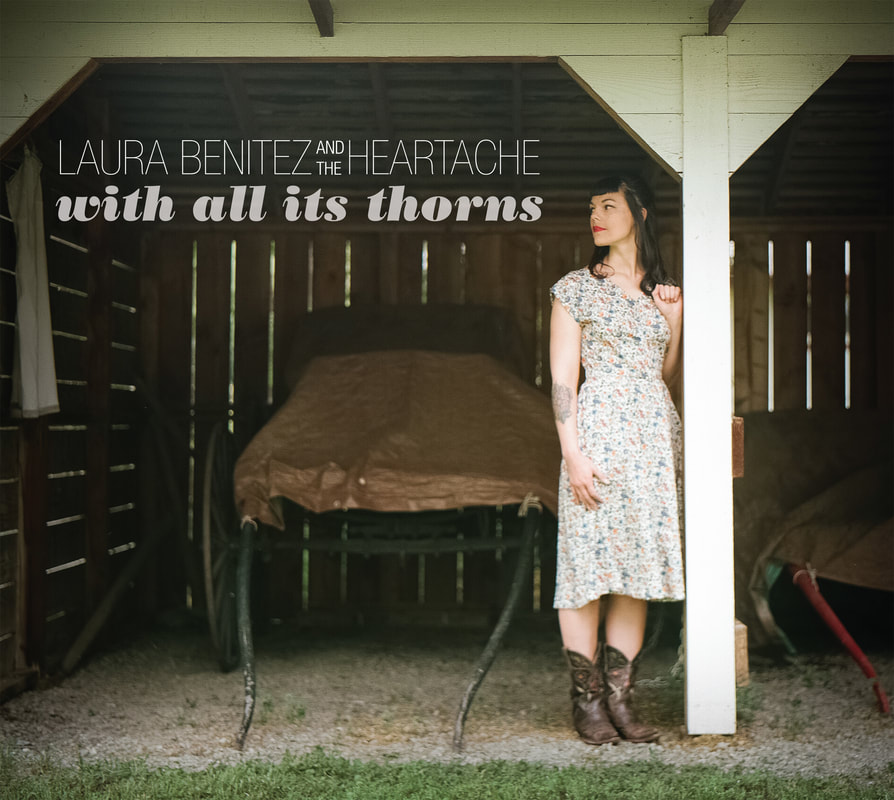 Today I wanted to feature a VERY GOOD album that I received in the mail called Laura Benetiz And The Heartache which is a West Coast outfit of TERRIFIC Honky Tonk Country from California. This album was sent to me in a press kit, and when I finally got time to listen to it I was PLEASANTLY astonished. HOW have I NOT heard of this gem before, even her previous 2014 album "Heartless Woman" is equally TERRIFIC. But now let's delve into this one called "With All It's Thorns.
The pedal steel guitar work on this album is INSANE and truly precise, Mr. Ian Sutton completed a masterpiece of solos on songs like "Our Remember Whens" which was a lover's song about future good times between two lovers. You know the feeling when you have a NEW relationship, and you JUST KNOW there are good times coming. You KNOW the times will be remembered and recalled in time.
The album jumps right into a murder ballad called "In Red" it's a seductive and sultry tune about a fornicating man, with a new unsuspecting wife that regrets dressing in white. These eleven songs are so wonderfully written I am just raving about this album. I have given it to so many other outlets that promote this kind of music, it's unreal. She eventually ends up shooting this man and the TWANG of this song is VERY enjoyable.
This album begins with a song reminiscent of the 1980's women like Miss Mary Chapin Carpenter and Miss Dolly Parton with a song called "Something Better Than A Broken Heart", which was the only co-write on the album. It has a New Orleans type flair to it, also the song "Whiskey Makes Me Love You" was another perfect throwback song. This young lady has the total package for today's Honky Tonk crowd, she has the Legends sound and reference, while maintaining today's fresh look like Miss Sarah Gayle Meech and Tommy Ash.
'The Fool I Am Right Now" is a good boot stomping two step beer drinking song about typical regret of something I think many of us are..fools in love with people who treat us less than we deserve. if THAT doesn't hit the Honky Tonk nail on the head i don't know WHAT DOES.
The last song is a slower one called "Nora Went Down The Mountain" with some terrific fiddle work and a truly compelling story of adventure. I'm telling you folks this album is EXACTLY what I was looking for when I want a female fronted Honky Tonk outfit.
1. Something Better Than a Broken Heart
2.Easier Things to Do
3.Our Remember Whens
4.In Red
5.Whiskey Makes Me Love You
6.Almost the Right One (Casi Mi Cielo)
7.Ghost Ship
8.The Fool I Am Right Now
9.Secrets
10.Why Does It Matter
11.Nora Went Down the Mountain
Mar 30
The Monkey House
Berkeley, CA
Apr 06
Fireside Lounge
Alameda, CA
Apr 22
Ivy Room
Albany, CA
May 17
Bar Fluxus
San Francisco, CA
May 19
Neck of the Woods
San Francisco, CA
May 22
Bazaar Cafe
San Francisco, CA