Folks as you know I follow over 175 festivals per year and out there in Virginia Red Wing Roots Music Festival is one of them. Here is some new information about their new stage they will unveil during their 2018 festival.
Stage Renovation at Natural Chimneys
We are excited to share one of our biggest behind-the-scenes projects this past year. We're renovating the Southern Stage! When work began in May, members of The Steel Wheels joined a group of volunteers in dismantling the stage at Natural Chimneys Park. By the time the sixth annual Red Wing Roots Music Festival begins on July 13, a much bigger and better stage will have taken its place!
The timber frame structure, now going up at Natural Chimneys, represents our biggest investment yet in the park, which has hosted the festival since the beginning. The $100,000 project is made possible by the generous support of several local businesses and individuals and will be owned by Natural Chimneys, benefitting both the festival and the surrounding community for a long time to come.
Blue Ridge Timberwrights, a timber frame builder based in Christiansburg, Va. and primary supporter of the stage renovation, will have naming rights to the stage (final name TBD). Two other area contractors and Red Wing sponsors are also playing significant roles. Herr & Co. Building Contractors is serving as the project's general contractor, while Venture Builders Inc. is coordinating and supervising the labor. Rounding out the effort are well over 1,000 hours of volunteer labor donated by supporters of the festival. THANK YOU ALL for your contributions to make this a reality!
The many artists who have performed at Red Wing over the past five years are a continuation of Natural Chimneys' long tradition of musical performance, which includes an appearance by country legend Hank Williams Sr. in 1950. By building the new stage, Red Wing hopes to remain a part of that tradition long into the future.
Stay tuned for more photos of the new stage on our Facebook page!
Get Involved in the Great Outdoors!
In addition to celebrating great music, we also enjoy the Shenandoah Valley's great outdoors, with organized
hikes
,
bike rides
,
fun runs
, and
morning
yoga
,
as well as, swimming available all weekend long. Over the last several years we have partnered with
Shenandoah Valley Bicycle Coalition
,
Shenandoah Mountain Touring
,
VA Momentum
,
The Center
,
Friends of Shenandoah Mountain
, Potomac Appalachian Trail Club – Southern Shenandoah Valley Chapter, and
Walkabout Outfitter
to heighten your Red Wing experience.
Featured Artist:
ELLIS DYSON & THE SHAMBLES
Ellis Dyson & the Shambles  expertly blends old-time influences ranging from Piedmont murder ballads, to traditional jazz, to big band swing. The result: whiskey-soaked, foot-stompin' songs that bring party music of departed eras to crowds both young and old. The Shambles have made waves with their theatrical and explosive live shows and masterful musicianship that electrifies every audience. Bursting with exuberance and effortless expertise, this playfully hootin' and hollerin' act is guaranteed to bring the ruckus. […]
Sponsor Spotlight
Herr and Company Building Contractors
and
Venture Builders, Inc.
have played an instrumental role in bringing the new, gorgeous, timber frame stage to Red Wing and Natural Chimneys Park. It could not have happened without them. They each play a big role during the festival, as well. In addition to creating and sponsoring Shady Grove (our mist pavilion and relaxing family "fun zone"), Venture Builders provides construction support from set-up to tear-down. Mike Herr from Herr and Co. is part of our Site Operations team during the festival. He's one of the people buzzing around the festival grounds making sure that all the equipment and systems are in working order. Thank you to both companies for the ongoing love and support of Red Wing!
Blue Mountain Beer Garden
Featuring Blue Mountain Brewery, Old Hill Hard Cider & Bluestone Vineyards
Blue Mountain Brewery
is back with craft brews in our two Blue Mountain Beer Gardens! As always,
WNRN
will be pouring the brews again this year, with special tappings each day. This year special tappings will include
Peanut Barrel Ana, Drink a Peach, Raspberries on Acid, Wookies Don't Die, Barrel Soft-serv
and
Local Species
. The full selection of craft brews is listed below. A large portion of the proceeds from the beer gardens supports WNRN. You'll find plenty of Blue Mountain beers available in both beer gardens, but if cider or wine is more your speed,
Old Hill Hard Cider
and
Bluestone Vineyards
can be found in the main beer garden off of the Music Meadow. Old Hill Cider will offer
Betwixt, Virginia Strawberry, Yesteryear,
and their brand new
Off The Press
. Bluestone Vineyards will serve
Chardonnay, Cabernet Franc, Beau (a sweet wine),
and a rotating list of
Grateful Dead inspired legged wines.
Blue Mountain Brewery Beers:
Kolsch 151
Rockfish Wheat
Full Nelson
Hopwork Orange
Satan's Pony
Dark Hollow
Broken Mandolin
So Good, I Can Already Taste It.

You may have come for the music, but the delicious festival food helps fuel the fun!
Klines Dairy Bar
is not only a sponsor and vendor, but they also helped fund the new stage in memory of Janet Arehart. Mike Arehart shares, "Kline's Dairy Bar has been an intricate part of the community for almost 75 years. To be able to support such amazing music locally and to continue to build community events and community spirit has always been our goal. As a personal fan of The Steel Wheels, bluegrass and roots music, I am proud to be a part of bringing more opportunities to our area. Don't forget to enjoy our homemade custard-style ice cream, the perfect pairing with summer and music!"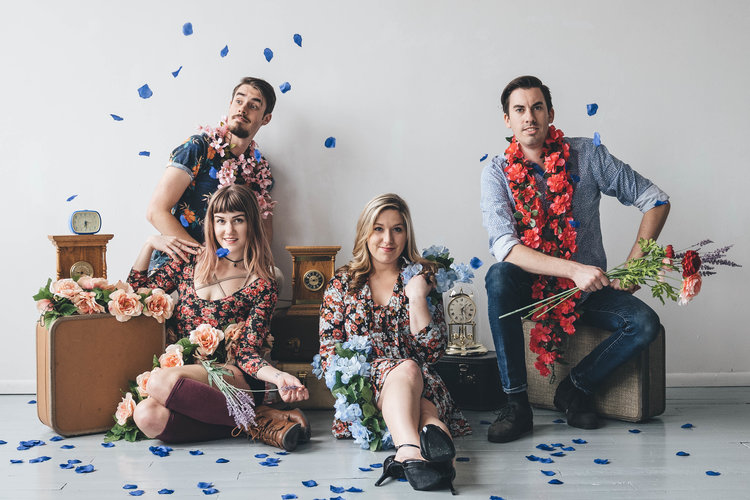 Featured Artist: KUINKA
A reinvention rather than a refutation, the name Kuinka comes from the Finnish for "how"; how does a band bristling with spirited creativity continue to evolve artistically and challenge themselves while staying true to their own roots? For Kuinka, the answer comes in the form of a release, a giving over to the muse, and a joyful acquiescence to faith in their cumulative virtuosity as songwriters regardless of genre or instrumentation. [
…
]
2-day Discount on 3-day Tickets!
(Ends Friday at 5pm)
With less than 250 3-Day tickets remaining to Red Wing VI, it looks like we're going to sell out once again. And since you are on our email list, we're guessing you're one of our loyal followers. If for some reason you haven't been able to purchase your tickets yet, or if you have a friend you've been nudging to join you for Red Wing, we're offering a $10 discount on 3-Day tickets when you use Promo Code: RedWingLove at checkout. This sale ends Friday at 5pm so act quickly! Also – heads up! Saturday single-day tickets are sold out and Friday and Sunday's are moving fast. If you're planning to come for just one day, grab those tickets now!
Sponsor Spotlight
Gaines Group Architects
is a long-time Red Wing supporter and they played an integral role in the newly renovated
Blue Ridge Timberwright Stage
. In addition to providing the design and architectural drawings for the project, they worked closely with the project manager to create a feasible upgrade. If you have any building needs, considering calling them as you begin dreaming into your project!
Hank's Grille and Bar
has been catering Red Wing artists and staff for years with their southern cuisine and BBQ. Now you can enjoy them during the festival, as well. Find them in the Music Meadow!
___________________________________________________

_______________________________________________________________
THANK YOU to all of the Red Wing VI sponsors!
Interested in sponsoring the festival this year?
Visit our sponsor page to learn more about our packages and additional sponsors.