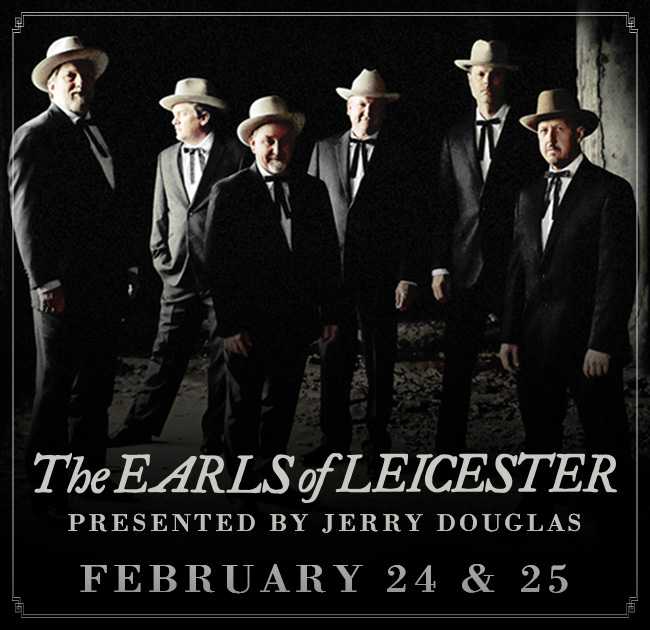 The CMA Music Theater at the Country Music Hall Of Fame has been bringing GREAT acts to the Hall Of Fame, like the Earls Of Leicester who blasted the Bluegrass scene up with their second album called "Rattle And Roar" in 2016. These boys have TWO FINE albums of material to pick through for a LIVE album, I anticipate a DANG FINE album.
The Earls of Leicester are the three-time IBMA Entertainer of the Year bluegrass group assembled by Jerry Douglas to present the music of Lester Flatt, Earl Scruggs, and their band, the Foggy Mountain Boys. Their self-titled debut album earned a Grammy Award for Best Bluegrass Album in 2015. The band's music focuses on the music of Flatt & Scruggs during the period when the band consisted of Lester Flatt on guitar and lead vocals, Earl Scruggs on banjo and guitar, 'Uncle' Josh Graves on dobro, Paul Warren on fiddle, Curly Seckler on mandolin, and 'Cousin' Jake Tullock on bass. The band's name is a play on the names of Earl Scruggs and Lester Flatt.
The Earls of Leicester consists of 14-time Grammy winner Jerry Douglas on Dobro, Shawn Camp on lead vocals and guitar, Charlie Cushman on banjo, Jeff White on mandolin, Johnny Warren on fiddle, and Barry Bales on bass. Douglas and Bales are also band mates in Alison Krauss & Union Station. These shows are going to be recorded for a future Earls of Leicester live record. Tickets are $34.50.
HERE is where you can go to order tickets.